Back to Blog List
Why is Solar Cheaper than Fossil Fuels?
17 February 2023
3 min read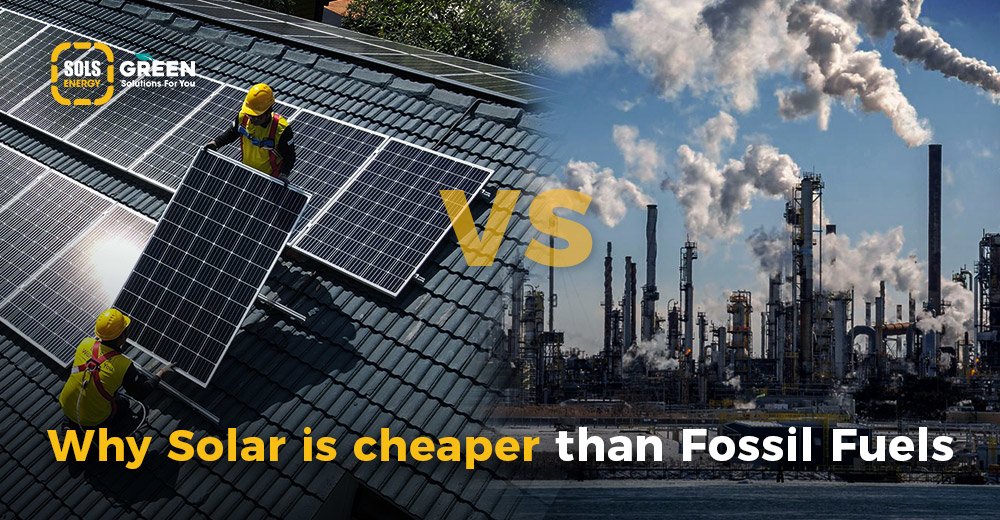 Unlocking Solar Power Savings in Malaysia: Exploring Why Solar is Cheaper than Fossil Fuels
With 4-7 hours of bright sunshine everyday, Malaysia is one of the many countries with enormous energy potential that is just waiting to be tapped. We can see the traction solar power has gained in the country as the Malaysian government commits to the " Carbon Neutral Commitment 2050" initiative and provides funding for installation of solar panels in government and commercial facilities. Although to homeowners, solar may not seem entirely beneficial in the long-term, when you compare it to the reliance on fossil fuels and TNB, it may just prove to be essential. In this article, we explore why installing solar is cheaper than the energy the country currently relies on.
Understanding the Costs of Solar Power in Malaysia
The cost of solar power in Malaysia has come down significantly in recent years. It can vary depending on the size and type of system you are installing. Depending on the system size and product quality, complete solar PV systems nowadays can range in price from RM 17K to RM 47K (with a system size range of 4 kWh to 13 kWh). Solar companies now also provide financing alternatives with a range of interest rates, giving clients freedom to select their preferred method of payment.
Why Solar Saves You Money
Net Energy Metering (NEM) started as a government-led initiative to encourage electricity consumers to produce solar energy via a solar PV system for their own domestic use. If there is surplus energy generated, TNB will purchase it on a 'one-on-one' offset basis. This programme was first introduced in 2016 and relaunched as NEM 3.0 for the current phase (2021-2023). One of the components of this, is the NEM Rakyat Programme, which aims to lower electricity bills for residential premises, with excess energy exported to the grid and paid on a 1:1 basis. Not only are you supplying your own electricity, but the extra energy you generate goes back to TNB's grid, for which you will receive a discount on your monthly TNB Bill.
Below is a real example of our SOLS Energy customer's TNB bill before vs. after installing solar. The cause of the difference being net-metering.
Mr. Eddy
Solar Panel System Size: 5.32 kWh
Savings: 98%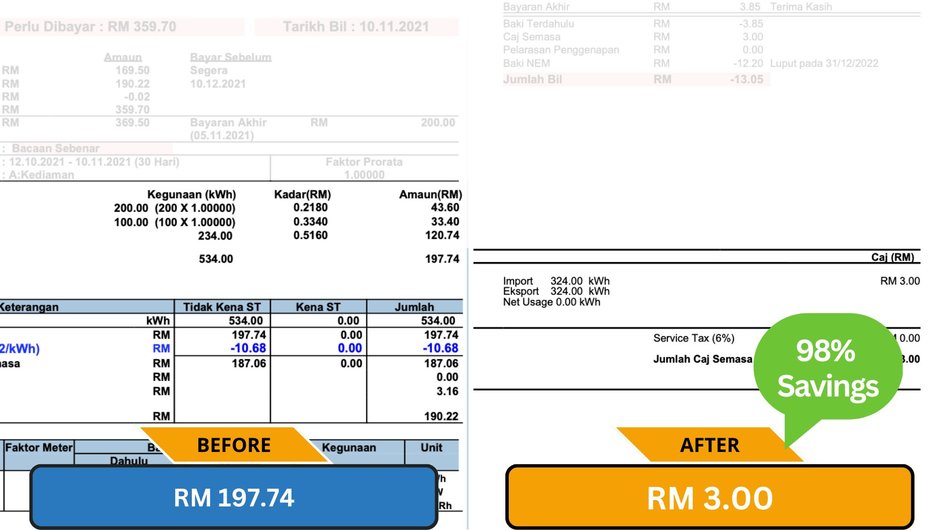 Why Solar is Cheaper than Fossil Fuels in Malaysia
By now, we understand the mechanics of owning a solar PV system and how it allows you to access the net-metering benefits provided by the government. So let us take a closer look as to why this would be cheaper by looking at the case of Mr. Johnson and what his future would look like for the next 20 years depending on the energy that he chooses to rely on:
Future 1
Mr. Johnson pays RM 600 for electricity every month to TNB.
Due to the 4.4% annual increase in the increase of electricity tariff rates every year, Mr. Johnson spends RM 223,000 over the next 20 years.
Future 2
Mr. Johnson reads an article on the benefits of solar and finds out that he could save up to 90% on his electricity costs every month by installing solar panels on his roof.
He contacts one of the many companies that offer a free power study to find out the costs of solar, the potential savings and the best solar PV system for his home.
The solar experts recommend a 8 kWh system with an upfront cost of around RM 32,604.
Mr. Johnson decides to skip the many financing options provided by the company and purchases the solar outright.
Starting from the month after the installation, Mr. Johnson's TNB bills don't go over RM 144. As he saves RM 456 monthly, he makes back his investment in under 6 years and continues to enjoy clean energy and savings.
In 20 years, he was able to cut his energy costs down by RM 137,000 (61%) and only spent RM 86,000 on electricity.
| | Costs | Savings After Investment |
| --- | --- | --- |
| Without Solar | RM 223,000 | 0 |
| With Solar | RM 86,000 | RM 137,000 |
Which future would you choose for Mr. Johnson?
Which future would you choose for yourself?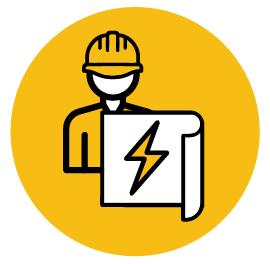 Get a FREE Consultation (worth RM499)
Claim your free Power Study and we will tell you:
How much you will save.
How much you will spend.
The best Solar PV system for you and your home.
CLAIM YOUR FREE POWER STUDY!
Let Us Customize Your Solar
Fill in this form to claim your Free Power Study worth RM499.