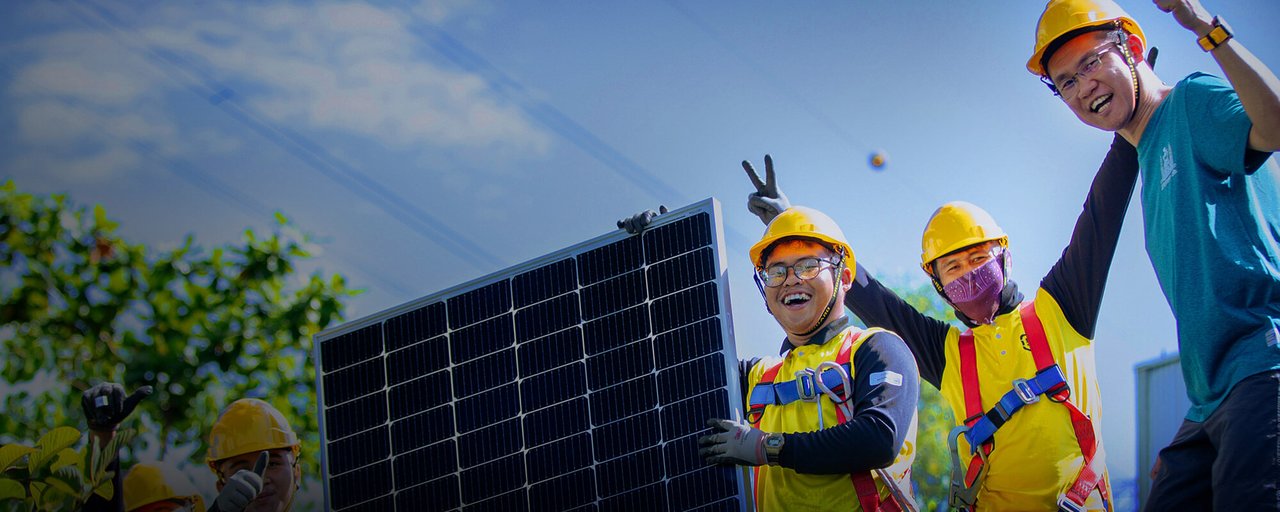 SOLS Energy champions, protects and builds thriving communities powered by the sun. With the purpose that together we can defend what is most important.
1. No. 1 Home Solar Company in Malaysia
We are not the biggest Solar Company but we are the best and have the most amount of Home installations in Malaysia. #numberOne
2. We are the only Solar company Backed by PETRONAS
They vetted many but picked us for our business model, technology behind everything we do and our Orang Asli qualified installers. #backedbythebest
3. Best-in-Class Tier 1 Equipment
Approved by PETRONAS. We ensure that every single product we put has gone through rigorous Research, Development and testing, so that it will last and continue to perform in your home. #quality
4. In-house Installation Team - ensuring quality & lasting installations
We design, we install, we maintain. We work with Malaysian Orang Asli, Orang Asal and B20 Youth who are trained, qualified and experienced to install solar for your home. #kitajagakita
5. In-house R&D and Solar Lab
We are the Only Green Tech company to have our own inhouse Solar Research and Development team and lab. We are technical experts and green activists to ensure you get the best system for your home needs. Our Technical Team and our Tech developers are dedicated to ensure we harness the power of technology and green energy solutions to give you the best possible solution and experience. #SolarLab
6. We established and run the first & only Solar Academy in Malaysia
We train and empower the B20 and underprivileged communities with a focus on orang asli and orang asal (Sabah Sarawak) youth. We provide them Solar Technical training and we hire them as part of our installation team. We pay them well so they can have a good life and build their career and wealth while taking care of their family back in the kampung. #SolarAcademy #greenjobs #OrangAsli #OrangAsal
7. Personalised Service
Our expert Solar Engineers offer one-on-one consultations to guide you through all the complexities and details of solar—from understanding your energy bills to installation and more. #onlyforyou
8. Custom Solar Designs
Each SOLS Energy solar system is custom designed using our proprietary software to fit your home's unique energy profile and needs. #personalized
9. No. 1 Dedicated Customer Success Team
On stand by to address all queries and post installation issues. We are with you on this journey and will always be there for you. #youmatter
10. Exclusive Partnerships with the Largest Corporations in Malaysia
who have vetted us to provide the best in market Green Solutions offerings to their employees. Such as: Petronas, Shell, UEM Edgenta and more.. #thebestonlyworkwiththebest
11. Distributor and direct relationship with all Solar Manufacturers
We are the sole distributor for Fronius Inverters and one of the 2 Tier 2 Distributor for Huawei Inverters in Malaysia. We are also the only solar service partner so we can always ensure your system is working well and we can replace, repair and maintain it at speeds that other solar companies simply can not. #powerfulconnections
12. We are 24-7 – Lightning Fast Installation!
We install your system within 24 days of approval and 7 hours to complete. - Fastest in Malaysia to install. If we don't install in time, we pay for your TNB bill. #fastest
13. Over 8 years of experience in Solar and Green Solutions
We got you covered. As part of SOLS Group that has been creating impact since the year 2000. 23 years of impact work and counting. #beenaroundforawhile
14. Industry's Best Financing Options
We have partnered with the best Financial institutions to offer you multiple financing and payment options that can work for you. #zeroupfront
15. Our Guarantee - We monitor your system daily for 20 years
Our industry-leading proactive solar monitoring gives you peace of mind for the life of your SOLS Energy solar system. We monitor your system daily to ensure you're taking full advantage of the sun. Our best-in-class monitoring technology proactively informs us of possible issues, so your system is always at peak performance. Your home, your energy, Our responsibility. #247monitoring
16. We focus on your home and nothing else
Residential market focused as we have completed over 1200+ homes in Peninsular Malaysia and we keep adding more green solutions to offer our customers. #homesolar
17. We take care of all your green solution needs
Starting with Solar PV and now EV chargers, soon we'll be expanding to home related; battery storage, rain water harvesting, vertical farming, smart home systems and EV vehicles. Making you future proof. #futureproof
18. Genuine Award Winning
All the awards we won are from legitimate organizations with independent judges. We have a strict NO award buying or table buying policy. #multiawardwinners
19. We are a Green-technology Impact Organization
Everything we do is fully backed by our tech stack. Our coders, developers, CINO and CTO are some of the best geeks in Malaysia. #Geeks
20. 30% of our Profits go back to the Poor
We truly care about the planet and our people. 30% of our net profit goes towards impact projects for the B20 communities in Malaysia. We provide training, accommodation and food for the B20 in our Solar Academy. We light up homes for the rural Orang Asli and Orang Asal communities, and we do much more. #payitforward
21. We are partners with our team.
We are the first Green Technology Impact organization in Malaysia to give everyone on our team stock options and profit sharing. All SOLS energy team members from installers to directors all get stock options so they are owners and they all also get profit sharing annually. #sharedprosperity
SOLS Energy vs the Top Solar Companies in Malaysia
Here is a comparison table between SOLS Energy and the best solar companies in Malaysia. All the companies listed provide a standard solar PV system package that includes: Power Study, Solar Panels, Inverter, Wires, Mounting Rack, and Installation. Learn what sets us apart from the rest.
SOLS Energy
Pekat Solar + Solaroo (Industrial)
Gsparx (TNB) (Industrial)
Verdant
(Residential)
Plus Xnergy (Industrial)
Solarvest (Industrial)
Inhouse Web App
Our customers can easily track their order and talk to us.

✔︎

✗

✗

✗

✗

✗

20 Years Performance Monitoring
We monitor your system performance 24/7 giving you peace of mind.

✔︎

✗

✗

✗

✗

✗

Home Solar Specialist
We focus only only residential homes and small business only.

✔︎

✗

✗

✔︎

✗

✗

Green Solutions Expert
We have solar, EV Chargers, and soon smart homes, vertical farming, rain water harvesting, etc.

✔︎

✗

✗

✗

✗

✗

Exclusive Distributor (Inverters)
We are exclusive distributor for Fronius and Tier 2 Distributor for Huawei.

✔︎

✗

✗

✗

✗

✗

100% In-house Installation Team
Our installers are certified, qualified and experienced.

✔︎

✗

✗

✗

✗

✗

Direct Manufacturer Partnership
Solar Panels: Canadian Solar, JA Solar, racks and cable manufacturers.

✔︎

✔︎

✔︎

✗

✗

✔︎

Exclusive Partnerships with MNC & GLCs
We are exclusive and the only ones approved to serving employees in: Petronas, Shell, UEM Edgenta, TM, OCBC and more

✔︎

✗

✗

✗

✗

✗

100% Green Technology Company
We are the only Tech startup in the Green energy and solar sector and have won genuine Tech awards.

✔︎

✗

✗

✗

✗

✗

Rural electrification for Orang Asli Communities
We provide off grid: Solar, batteries, lights and charging solutions for rural villages.

✔︎

✗

✗

✗

✗

✗

Customer Education + Community Outreach
We educate our customers and community on Climate change and green solutions.

✔︎

✗

✗

✗

✗

✗

Solar Academy for B40
Training and Jobs for Orang Asli and Orang Asal youth in Green Sector.

✔︎

✗

✗

✗

✗

✗
Let SOLS Energy Customise Your Solar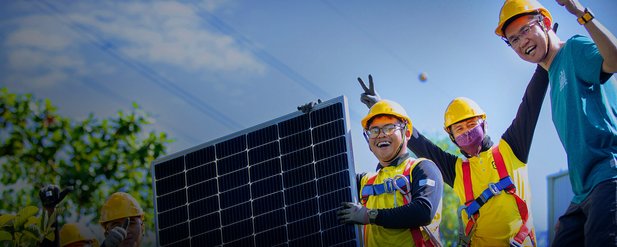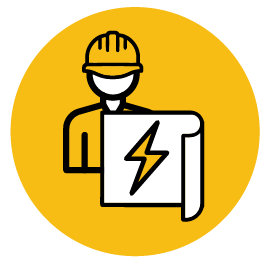 Get a FREE Consultation, and we'll tell you:
How much you will have to spend.

How much money you will save.

The best Solar PV System for you and your home.

The end-to-end process to installing & activating your Solar System.
Fill in this form to claim your Free Power Study: