Back to Blog List
Merdeka Special: Discounts on ChargeSingh EV Charging for SOLS Energy Customers!
6 September 2023
2 min read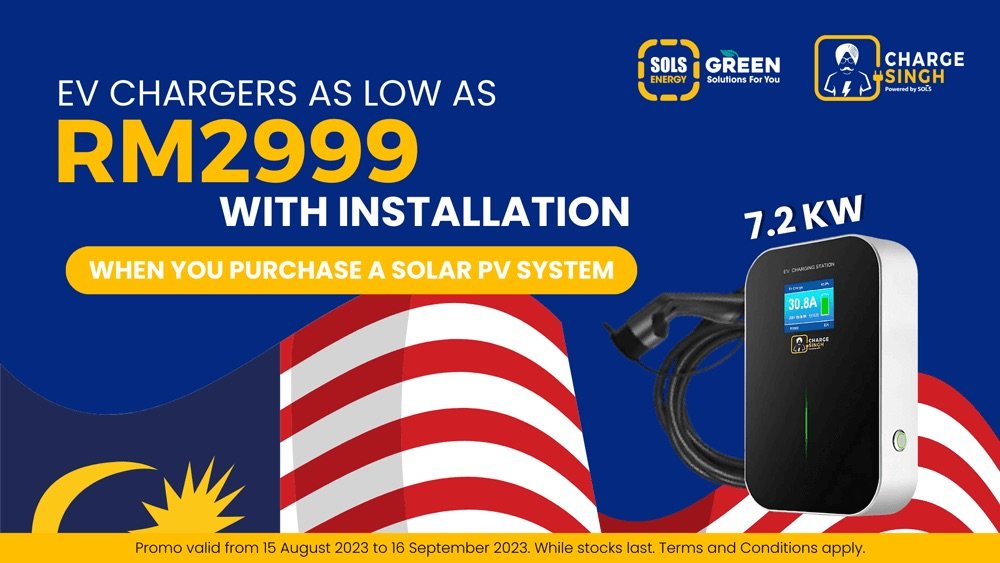 🌞 As Malaysia celebrates its 66th Merdeka Day, SOLS Energy is proud to empower your independence with an exclusive promotion that shines a light on sustainable mobility. Introducing the Solar + Charger Merdeka Bundling Promo – a limited-time offer that combines the power of solar energy with cutting-edge EV charging technology.
Campaign Details:
The campaign will be running until the 16th of September 2023 and will be eligible to both new and existing customers.
How It Works:
For new customers, taking advantage of this exceptional deal is as easy as harnessing the sun itself. When you confirm the purchase of the ChargeSingh EV charger along with our Home Solar PV system, you'll automatically become eligible for our special discounted pricing.
Existing customers can also join the journey towards sustainable driving. Simply reach out to your dedicated salesperson, and they'll guide you through the process of claiming this unbeatable deal.
Exclusive Discounts:
Product Discount: Enjoy a product discount of RM 1,000 when you opt for the ChargeSingh 7kw EV Chargers (RSX1 & RSX1-K). But wait, there's more!
Installation Discount: Save RM 500 on installation if your home's installation address matches SOLS Energy's Home Solar PV location.
Merdeka AngPow Discount: The first 30 customers receive an extra Merdeka AngPow discount of RM 88 on top of the RM 1,000 product discount.
**Please note that the product discount is subject to availability, so don't miss out. Be aware that additional charges may apply if you need extra wiring beyond the package provided.
Frequently Asked Questions (FAQs):
1. How do I claim the deal?
New customers: Confirm the purchase of the ChargeSingh EV charger alongside the Home Solar PV system.
Existing customers: Contact your salesperson-in-charge for assistance, and discounts will be applied upon purchase confirmation.
2. Who can I contact for after-sales service after installation?
For any technical or EV charger-related queries, you can reach out to the ChargeSingh representative assigned to you or contact the general helpline at +6016-2074888.
3. Can I install the charger at a different location from where I installed the PV?
Yes, you can. However, the RM 500 installation discount won't apply. The RM 1,000 product discount, however, will still remain. If you wish to purchase only the 7Kw chargers without installation, the RM 1,000 discount remains.
Embrace the power of the sun and the thrill of electric mobility this Merdeka season with SOLS Energy's Solar + Charger Merdeka Bundling Promo. Give us a shout, grab your shades, and let's power up for Merdeka together! 🚗🌞🇲🇾
Let Us Customize Your Solar
Fill in this form to claim your Free Power Study worth RM499.