Back to Blog List
11 Questions to Ask Your Solar Installer in Malaysia (Even if it is not us)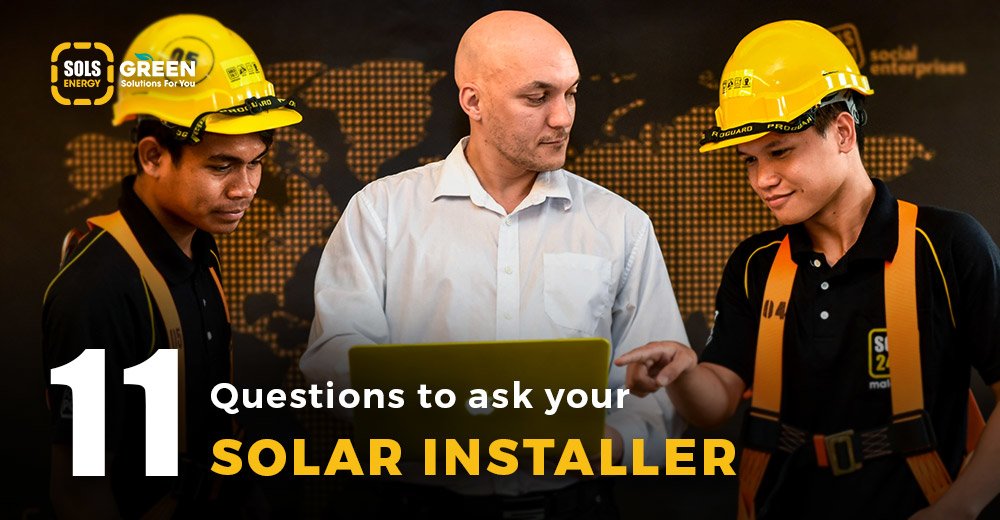 If you're a homeowner thinking about installing solar panels on your roof, it's important to find a reliable and experienced provider to ensure a smooth process. Whether or not you choose us as your solar provider, we have 11 questions below that you can use to ensure a seamless journey towards clean energy and savings.
For your reference, we have cited the services we provide as an example on what to look for, and why it is important for your chosen solar company to have this feature.
1. What type of solar panels do you offer?
A solar PV system comes with solar panels and an inverter. Thus, it is essential to ensure that you have the best parts to mobilise your journey towards endless savings.
Different companies offer different products from different manufacturers. The renewable energy industry specifically categorizes products in tiers. Established brands have a variety of products that range from Tier-1 (Best Performance & Higher Cost) to Tier- 3 (Less Efficient & Lower Cost). Only a small percentage of the world's solar panel & inverters fall into the Tier-1 category. If a company calls their products "high quality" or "top tier", it would be best to fact-check this.
With 100+ solar companies available in the market, all homeowners have plenty of options to choose from and in our opinion, they deserve the best.
Therefore, here is a list of the Top 5 brands for solar panels and inverters:
Best Brands for Solar PV System Hardware
Solar Panels
Canadian Solar
JA Solar
Trina Solar
Jinko
Inverters
Fronius
Solaredge
Huawei
SMA
GoodWE
A few companies in Malaysia have direct manufacturer partnerships with some of these brands, they include:
SOLS Energy
GSparx
SolarVest
This is an advantage as if anything were to go wrong with any parts of the system, they will be able to replace or repair the parts in less time and with the help of their suppliers expertise.
SOLS Energy in particular are distributors for Fronius and Huawei Inverters and work directly with JA Solar. Canadian Solar, and JJ Lapp.
2. What warranties or guarantees do you offer for your solar panels and installation?
A reputable solar panel provider should offer warranties or guarantees for their products and installation services.
As an example, let us show you the types of guarantees that SOLS Energy offers.
Product
Brand
Warranty
Tier-1 Solar Panels
Canadian Solar
12 Years Manufacturing Warranty
JA Solar
25 Years Warranty on Output Performance
Tier-1 Inverters
Huawei
10 - 12 Years Warranty
GoodWe
10 - 12 Years Warranty
DC Cable
JJ-LAPP Cable
25 Years Warranty
3. What is the estimated cost of the solar panel system and what does it include?
Knowing the cost of the solar panel system and what it includes is essential to budgeting for the installation process. Make sure to get a detailed breakdown of the costs involved.
We have chosen to provide premium solar panels and inverters. Thus, our TOP Tier-1 solar PV systems could range from RM 17.000 for a 4.18 kWh System to RM 47.000 for a 13 kWh system.
Be wary of "too good to be true" solar PV system prices, as they might use products that are low quality and shorter warranties.
4. Can you provide references or examples of similar solar panel installations you've done in Malaysia?
A reliable solar panel provider should be able to provide references or examples of similar installations they've done in Malaysia to give you an idea of their experience and capabilities.
These references may include installation pictures, or before Vs. after solar TNB bills.
Here is a before vs. after solar TNB bill comparison from our very own customer Mr. Eddy, who installed a 5.32 kWh solar PV system and now enjoys 98% savings every month.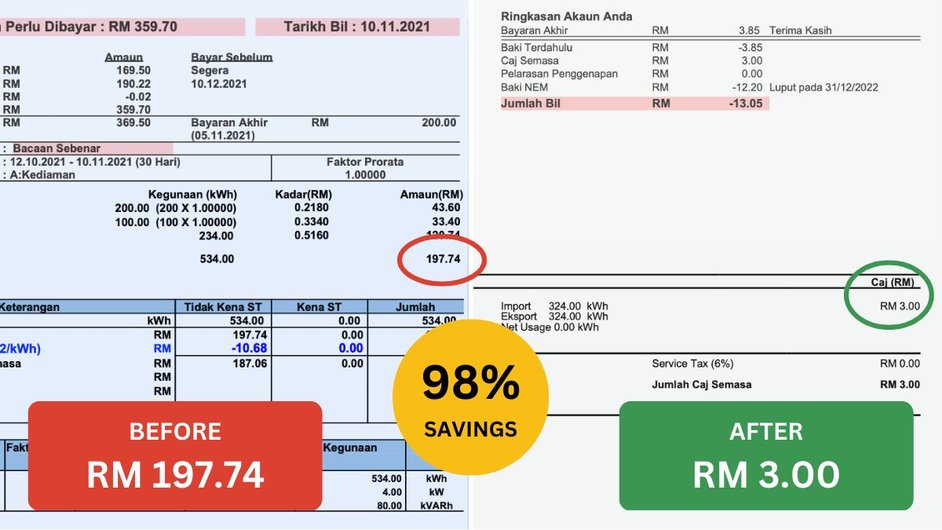 5. Do you handle the entire installation process, including necessary permits and inspections?
The installation process can involve permits and inspections, so it's important to know if your provider will handle these aspects of the installation process.
It is helpful if the company has their own in-house installation team, as outsourcing this service, would lead to the inability to guarantee quality installation and workmanship. In-house installation teams can also ensure that the solar will be up on your roof as soon as possible.
Fun Fact!
SOLS Energy has their very own installation team that they train and employ from the first and only Solar Academy that they started in 2014. The academy entails a two-year apprenticeship program designed to train individuals the necessary skills to secure a rewarding career in the renewable energy industry. The program prioritises recruiting from the B20 communities with a focus on Orang Asli, Sabah and Sarawak youth, for the prospect of providing high-paying employment opportunities, particularly in SOLS Energy's in-house installation team; who provide best-in-class industry standard solar installation and ensure optimal electricity generation.
6. How long will the installation process take?
Knowing the timeline of the installation process is important to plan accordingly and make any necessary arrangements. There are a lot of steps involved between signing the contract and finally enjoying the benefits of solar as it lights up your home. The company will need to be able take care of these steps without making you wait too long for the installation date.
Our installations are almost-always completed in 1 day, unless it is a larger system size, which will otherwise be completed in 2 days (12-13 kWh). We do our best to ensure a solar PV system is up on our customer's roof, with the net-metering approved and the savings prompted within 30 days after they first reach out to the company.
7. Do you offer financing options for solar panel installations?
Financing options can help make solar panel installation more accessible to homeowners. Make sure to inquire about any financing options available.
It is a plus if the company has multiple alternate financing options, as you can decide the monthly payment, and interest percentage. Be careful with this, as many finance companies who work with solar installers charge a high fee, often called "points", just to get you the loan. It is your cost to get credit.
We work with many partners that provide financing loans with no hidden cost. Every option we at SOLS Energy offer is transparent and direct from the financial institution. We do not mark up our pricing for loans. The interest rate can range from 2.69% to 5% from various institutions such as Bank Islam, Bank Rakyat, OCBC, and Affin Bank.
We also offer payment in the form of installments (IPP) with credit card and 0% interest ranging from 12 - 48 Months from various banks including Hong Leong, CIMB, Maybank, HSBC etc...
8. What maintenance or cleaning is required for the solar panels, and how often?
Proper maintenance and cleaning of solar panels can help ensure their longevity and efficiency. Make sure to ask your provider what maintenance is required and how often it should be done.
We advocate to have the system checked once every 24 - 36 months. Or if there's been some major construction or renovation work done near your house. If you notice your system isn't performing or generating the amount of electricity as per usual, it's likely time to have it checked. The good thing about us at SOLS Energy is that for 20 years, our team has been monitoring the efficiency and effectiveness of your solar PV system, it has happened very often where our Technical team will know if something is not working as it should before you would.
9. How can I monitor the performance of my solar panel system?
Monitoring the performance of your solar panel system can help you optimise its efficiency and identify any issues. Make sure to ask your provider how you can monitor your system's performance.
Due to the importance of this, we provide free online monitoring for our premium solar panels.
In addition our Technical team monitors your home sola PV system for Peak performance for over 20 years.
10. Do you provide any post-installation support or service?
Having access to post-installation support or service can give you peace of mind knowing that any issues or concerns can be addressed promptly. Make sure to ask your provider what post-installation support or service they provide.
Our customer success team has the answer to every question that has been asked over the past 8 years. With a major purchase such as this, customers need to trust that their concerns will be addressed.
11. Can the roof of my home support a solar panel system?
You must determine whether your roof can sustain the solar installation process before you buy or install solar panels. Is your roof stable enough to hold your new solar panels, or will you need to make any modifications?
Your solar company should be able to assess the compatibility of your roof based on information like how old it is, the type of structural support it has, or the weight limits per square foot.
In conclusion, ensuring a smooth solar panel installation procedure and positioning yourself for success with your new renewable energy system may be achieved by asking these questions.
If you would like to talk to a solar company that can answer all 11 questions and ensure a stress-free solar journey, well look no further!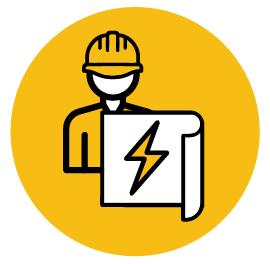 Get a FREE Consultation (worth RM499)
Claim your free Power Study and we will tell you:
How much you will save.
How much you will spend.
The best Solar PV system for you and your home.
CLAIM YOUR FREE POWER STUDY!


Let Us Customize Your Solar
Fill in this form to claim your Free Power Study worth RM499.