Who We Are
With the same core mission of #MadetoImpact, SOLS Energy falls under one of the Impact Organisation, as part of SOLS 24/7. With over 2 decades of experience, tackling all aspects of green solutions, we have all the access you need for a sustainable future.
All our products have undergone rigorous research & development to bring you sustainable solutions with the highest quality possible to last. From EV Chargers, to solar panel systems for home owners, professionals and small business owners, we are here to empower the world by doing good.
SOLS Energy is a leader in the green solutions industry, with a passion for serving our community by doing good while working towards creating a cleaner and safer planet.
SOLS Energy has worked on more than 1200 home installations amounting to more than 8MW in the last eight years. This has allowed us to empower over 200 orang asli families and their homes. SOLS Energy is the market leader in the residential solar segment.
Since 2015, SOLS Energy has quickly established ourselves as the premiere green solutions company in Malaysia by offering high-quality products and services. We help homeowners and business owners save on their electric bills and divest from dirty energy, promoting doing good and encouraging people to join forces in order to save the planet together.
At SOLS Energy, we want to join forces with the people to create a sustainable future for all. All our products are made with one core objective in mind; how to make it simple and convenient for Malaysians to go Green.
Our Mission
A #madetoimpact business connecting people, businesses, humanitarians and the planet with sustainable green solutions.
Our Vision
To create a planet where clean and affordable green solutions is accessible to anyone, anywhere, for the betterment of now and our future generations.
We help our clients improve the processes and installations, increase production, efficiency and safety while saving money and energy at the same time. We are committed to providing the highest-quality solutions, services, and products to make your switch to green living simple and convenient. We have been a green solution company from day one, and we use that experience to provide the most comprehensive knowledge base to our community.
We are on a mission of #madetoimpact, which focuses on not just 100% profit, but rather to utilise 30% of profits made through the sales of green solutions to create good financial returns, job opportunities, education and accommodation for the indigenous community known as Orang Asli, while, in turn, also helping protect Mother Nature.
30% of the profits of SOLS Energy is utilised to fund SOLS 24/7 foundation primarily Solar Academy, Malaysia's first solar academy that provides education for the indigenous community, Orang Asli, whereby they are then offered jobs to support with the installation of these solar panels for residential and commercial purchases. We are also working towards lighting up over 30,000 Orang Asli, Sabah and Sarawak rural homes who are off the grid with our Pico Solar solutions.
The aim is to create a better and stable life for the B40 Orang Asli, Sabah and Sarawak communities.
When you choose SOLS Energy, you're not merely a customer but a partner with us in striving to make the world a better place for our current communities and our future generations and to help the Orang Asli in Malaysia live a better life. For that, we thank you.
We harnessed the power of technology and made sure our business is #madetoimpact to our customers, team members, the indigenous community and the planet.
Our Story
Built with a vision by the founder of SOLS Energy and partners, to live on a planet where clean and affordable energy is accessible to anyone, anywhere, we have always wanted to free our community from fossil fuels for the betterment of future generations and to cope with the global climate crisis. SOLS Energy believes in being responsible to all, including our planet, so we strive to give you the best service, equipment, and pricing. We believe in win-win-win situations whereby everyone benefits and no one loses.
Today, with more than 1200 projects and over 8MV deployed, SOLS Energy is the leading green solutions company for residential homeowners in Malaysia, and we are rapidly growing in the SME sector.
Our Promises
To Our Customers
We will be the green energy company that you love. We will do everything to help you make responsible and wise decisions. We promise transparency in all our processes and help you understand the complexity and benefits of sustainable energy in a convenient way. We will always be there for you and support you in every possible way to make a safe and viable investment in yourself, your family, your company, the future generation, and the planet.
To Our Employees
We will always invest – in your talent, growth, development and well-being. We will work hard to provide opportunities to flourish and to combine an attractive salary with meaning, purpose and a supportive work-life culture. We trust you and give you the freedom and space to make decisions and build upon your ideas. We will go through dynamic ways with you. We have your back: as a sparring partner, a mentor, a friend and an ally.
To Our Partners
We will stand by your side – no matter what. We won't simply say we cannot do it; we will find a way to make it possible. We stay fun to work with and support you as an innovative, dynamic and dedicated team. We keep on looking at the broader perspective and promise to stay true to our cause: seeing the profit and prioritising the benefits of our communities and mother earth.
Our Values
Our values are not just who we are. They drive how we do business.
These values clarify the ways in which we engage with each other, our partners, our customers and the communities in which we work. Simply put, our values define our company and the way we go about our business every day.
Integrity
At SOLS Energy, we believe in transparent business practices that lead to mutually beneficial outcomes for all stakeholders. We bring integrity to everything we do, from the way we engage with stakeholders, customers, and partners to the high value we place on craftsmanship and quality. We care for our customers as we do for our families. This means we only provide safe, long-lasting, high-quality products that give comfort, reliability and peace of mind. We give more than what is expected and are always reachable.
Determination
Originating, designing, developing, financing, and constructing renewable energy assets is not an easy task. With dedication to our work, we constantly strive to deliver faster, and higher-quality projects over our competitors (who really we view as fellow Planeteers, just that we do it better).
Humility
We are fortunate to have the opportunity to work at the forefront of the climate economy, and we feel humbled to be able to do so at such a critical time in history. We approach this work from a feeling of gratitude and engagement, and we let our reputation — through our projects and our partners — speak for itself.
People First
We educate the public about solar and its benefits. We are not about profits first. Our community comes first. We work towards our mission to create an impact in the lives of many with our profit. We are driven towards generating income to contribute to the indigenous communities, and the B40 communities. We take action to decrease our planet's dependency on fossil fuels and to provide affordable green alternatives to as many homeowners and business owners.
Diversity
We believe in working with the best. We are a truly inclusive and a place where brilliant minds come together to create impact and value for all. Our #TeamSOLS has members from all continents contributing to an open, creative and supportive team culture. Our suppliers are from various countries, such as Germany, Austria, China, and Canada.
Our Credo - People, Planet, Profit
We have 10 Action statements that all of us strive to manifest in our daily lives as part of #TeamSOLS
Be Happy & Grow: Growth, Happiness & Development mindset with work-life balance.
Be Excellent: Speed of delivery with High-quality implementation.
Be Responsible: We are inclusive and are always responsible to our team & customers.
Be Curious: Always open to learn, question, not afraid to make mistakes and we learn from them fast.
Be Zero Waste: Smart use of resources and zero waste
We are Kind & Respectful: Always Communicating with respect, kindness and empathy
We Care: We genuinely care about our team and customers.
We take Ownership: We are all responsible for success. You Win when We all Win.
We are Partners: Salaries, Shareholding and Profit sharing that is generous and within our means.
We create Impact: We hire from the B40 and 30% of our profits is for Impact projects for the <B40.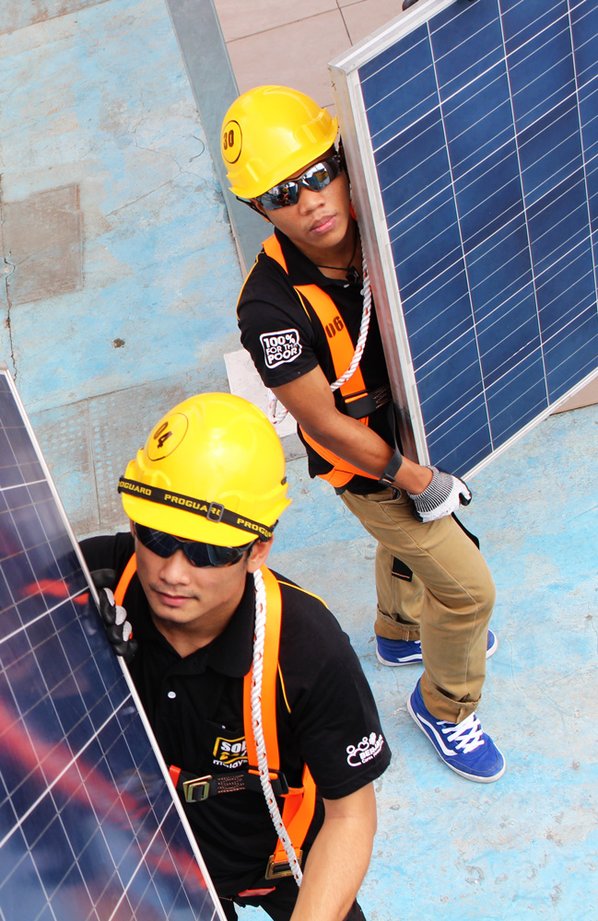 We established the first and only Solar Academy in Malaysia in 2014. SOLS Solar Academy is an education and boarding programme that provides technical skills in the solar industry and personal development training to young underprivileged Malaysians. The programme is for 12 months, and it offers practical training in solar system installation, maintenance as well as EV Charging and other green energy solutions.
Meet Boy (Baharom)
He is an Orang Asli youth who comes from Kampong Pasar, Pahang. The SOLS Academy of Innovation has transformed his life. He joined SOLS as a student in 2012.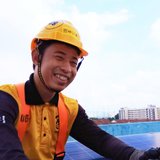 After 18 months of training in English, character development, solar energy, and environmental science, today, he is working as one of our key technical staff in SOLS Energy as a certified solar lead installer. He is the Solar Installation team manager and manages a team of installers by training and mentoring them.
With his knowledge and practical skills, he now has the opportunity to work in the renewable energy industry, further develop himself, earn a good income and achieve a better future.